Virtual Fun @ Home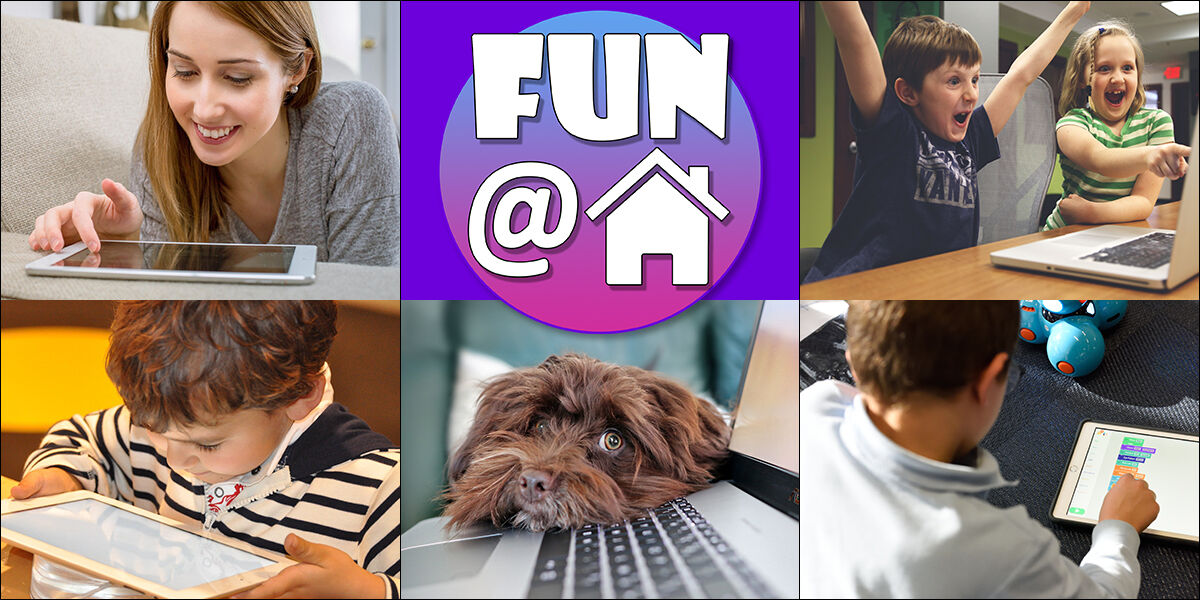 Coming up with fun things to do while in quarantine can be tough. We have put together a list of all the things you and your family can do from the comfort of your own home. Tour a museum, play games, explore the world of science, and even get some exercise! It's all right here.
---
Museums
Great Lake Science Center – Curiosity Corner LIVE
Every day at 10:30 a.m. & 3:00 p.m. Tune in as the Great Lake Science Center explores chemical reactions, engineering and more.
https://greatscience.com/curiosity-corner-live
The Cleveland Orchestra
Whether you're an educator, a parent, or both, the following [email protected] resources offer a variety of ways for introducing others to music with The Cleveland Orchestra.
https://www.clevelandorchestra.com/Education-and-Community/athome-with-the-cleveland-orchestra/
The Children's Museum of Cleveland
Explore exhibits and go on a scavenger hunt!
https://cmcleveland.org/virtual-tour/
Daily videos with fun, easy activities to do at home lead by CMC staff on their Facebook page https://www.facebook.com/CMCCleveland/
Cleveland Museum of Natural History
Discover fun facts about all the things that go on at the Cleveland Museum of Natural History. There is something for everyone. Every Monday, Wednesday & Saturday at 12:00 p.m.
https://www.cmnh.org/athome
Cleveland Museum of Art
Tour the Cleveland Museum of Art and experience more than 61,000 artwork. From 3D videos to the history behind the piece you can create your own tour virtually!
https://www.clevelandart.org/home-where-art-stay-connected
Smithsonian
The Smithsonian Institution is the world's largest museum, education, and research complex. We are a community of learning and the opener of doors. Join us on a voyage of discovery online.
https://www.si.edu/exhibitions/online
Check out daily events https://www.si.edu/events/online
NASA
Take a trip to outer space, solve puzzles, build a moon habitat and more in your own home. The scientists at NASA show you how to do it all with these fun activities.
https://www.nasa.gov/specials/nasaathome/index.html
National Museum of the United States Air Force
Take a virtual tour of the museum and download resources for your kids to learn at home including word searches, coloring pages and more.
https://www.nationalmuseum.af.mil/
National Museum of the Great Lakes
Captain Scupper's Kids Club is now online! Hands-on educational, entertaining and exciting activities are now available!
https://nmgl.org/kid-zone/
---
Zoos & Aquariums
Akron Zoo – Lunch and Learns
Every day at noon, the Akron Zoo is sharing Lunch and Learn videos on Facebook, featuring the animals and staff. Some videos are live, so people can ask questions during the broadcast.
Live - https://www.facebook.com/AkronZoo/
Past content: https://www.akronzoo.org/lunch-and-learn
Cleveland Metroparks Zoo
Every weekday at 11:00 a.m. & 1:00 p.m. the Cleveland Metroparks & The Metroparks Zoo is holding a FREE Virtual Classroom on Facebook Live where you can discover native wildlife as you explore the Emerald Necklace and look for early signs of spring, learn about the forest floor, birds and more and see your favorite animals at Cleveland Metroparks Zoo.
https://www.clevelandmetroparks.com/about/education/virtual-classroom
Columbus Zoo & Aquarium
Live feeds featuring the Discovery Reef Aquarium, as well as the beloved bonobos in the Congo Expedition region. https://www.columbuszoo.org/home/cameras
Cincinnati Zoo & Botanical Garden
Inviting you on a Home Safari via Facebook Live each day to learn more about the wildlife at the zoo.
https://www.facebook.com/events/2915534028492292/?event_time_id=2915534101825618
National Park Service Web Cams
Explore the daily lives of bald eagles, bears, and more.
https://www.nps.gov/subjects/watchingwildlife/webcams.htm?fbclid=IwAR1vpTql5bcsxRZRtNxMv4R9RSFv9qsxYgR9hY-di053ZE-bXZ1_WT6DkZQ
Rocky River Nature Center
Take a virtual tour of the Rocky River nature center.
https://www.clevelandmetroparks.com/parks/visit/parks/rocky-river-reservation/rocky-river-nature-center
Ohio Department of Natural Resources
Explore the great outdoors from your home! Join The Ohio Department of Natural Resources on a trip down a river, learn about amphibians, bees and other exciting things about nature!
http://ohiodnr.gov/odnr-operations-during-coronavirus-outbreak/odnr-digital-discoveries
---
Physical Education & Exercise
Beachbody Kids Workouts
Continue to help families stay healthy by offering some fun ways to expend energy together. With schools out and no formal recess or P.E., these workouts can be used to make family fitness fun and a part of your daily routine with this free selection of Beachbody Kids Workouts. https://vimeo.com/showcase/6880106
GoNoodle
FREE videos that will get your kids…and you moving and laughing. It offers games and videos for all.
https://www.gonoodle.com/
---
THEATER
Cleveland Play House
The Cleveland Play House is bringing the love of theater to your home with virtual classes through Zoom. The CARE Classes and enrichment programming for free to your scholars online. You can log on with Zoom using a computer, tablet, or smart phone. https://www.clevelandplayhouse.com/education/in-school/remote-learning
---
Libraries
Akron-Summit County Public Library
Access to thousands of digital ebooks and audiobooks.
akronlibrary.org
Cleveland Public Library
Digital and streaming services include e-books, audiobooks, movies, and music. Check out Virtual Storytime on The Cleveland Public Library website, Facebook and YouTube.
cpl.org
Cuyahoga County Public Library
Access the digital collection and online learning platforms remotely using the library's website.
cuyahogalibrary.org
Cuyahoga Falls Library
Access eBooks, eMagazines, streaming videos, music and television shows, and research tools for online learning.
cuyahogafallslibrary.org
Geauga County Public Library
Sign up for an eCard, for access to a wide variety of e-books, audiobooks, music, movies, TV and digital magazines.
divi.geaugalibrary.net
Kent Free Library
Digital resources are accessible with a library card.
kentfreelibrary.org
Lorain Public Library System
Cardholders can access the eLibrary collection where they can download and/or stream books, movies, music, magazines and more at no charge. This includes ABC Mouse, Audio Book Cloud, BiblioBoard, Hoopla, Kanopy, Kids InfoBits, OverDrive and much more.
lorainpubliclibrary.org
Medina County District Library
eCard holders can access library services digitally. This includes eBooks, eAudiobooks, magazines, movies, and music.
mcdl.inf
---
Crafts
Make your child's handprint into a keychain!
https://www.simplemost.com/turn-your-childs-handprint-keychain-craft-idea/
---
Cooking
America's Test kitchen
Enjoy a FREE 14 day of cooking lessons with America's Test Kitchen. You'll learn the hows and whys behind innovative techniques and classic recipes, all broken down step-by-step. The chefs offer recipe lessons, technique lessons, and cooking basics. These classes can be broken down by level of difficulty, ingredient type, and recipe type.
https://www.onlinecookingschool.com/
---
Other Fun Activities
Plant an indoor garden. This can either be an herb/vegetable garden or your favorite flowers. Once the seeds have started to spout you can transplant them outside for summer growing.
Do a puzzle. Puzzles have shown to improve focus and memory. Increase problem-solving skills, improve your mood and reduce stress. Puzzles can be done as a family or on your own. Once complete, you can buy puzzle glue and mount it in your home!
---