Your Lasting Identity Comes from God's Family - Daily Hope with Rick Warren - August 23, 2019
Crosswalk.com

Your Lasting Identity Comes from God's Family
By Rick Warren
"You are members of God's very own family . . . and you belong in God's household with every other Christian" (Ephesians 2:19 TLB).
Much of our identity is based upon our relationships.
I'm a grandson. I'm a son. I'm a husband. I'm a grandfather. I'm a team member. I'm a small group member. I'm a pastor. I'm an employer. I'm all of those things. Those relationships help to define who I am.
We know who we are in relationship to other people. People who have gone through a divorce or the death of a spouse know this. When that relationship ends, many people have trouble coming to grips with who they are. Or if they've been laid off from a job that's been tied to their identity, it can be really tough to get clarity with their identity.
That's why God wants us to gain our identity from a relationship that'll never end: our relationship with his family.
The Bible says, "You are members of God's very own family . . . and you belong in God's household with every other Christian" (Ephesians 2:19 TLB).
It doesn't matter what family you've had in the past. Your identity doesn't come from it. Your identity comes from your relationship with God's family.
In fact, your physical family was just a channel to get you into God's family. God used your parents—whether they were good parents or bad parents—to bring you into the world. But his real goal wasn't to keep you in that family; it was to put you in his family.
Your spiritual family is actually more important than your physical family. Physical families don't last forever. People grow up. They move away. They get divorced. They die.
Your spiritual family will last forever.
When that's what your identity is built upon, it'll last.
PLAY today's audio teaching from Pastor Rick
For more Daily Hope with Rick Warren, please visit pastorrick.com!
---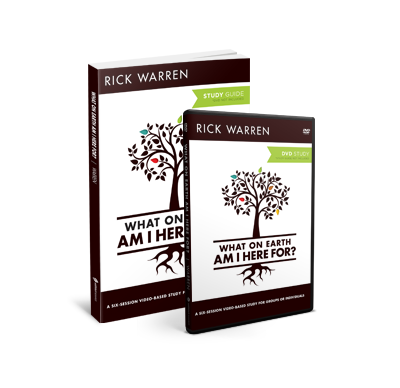 God has a plan for you . . . find out what it is!
Discover God's extraordinary purpose for your life in Pastor Rick Warren's What On Earth Am I Here For? study kit. This 6-message DVD series plus study guide includes strong biblical truth and practical ways to apply it, helping you:
• Learn how to build meaningful relationships
• Discern how God has equipped you to serve others
• Embrace his purpose for your life
• Prepare for the mission God created you to fulfill
We'll send you the What on Earth Am I Here For? study kit to thank you for your gift to Daily Hope today.
Your partnership helps reach even more people worldwide with the love and hope of Jesus Christ!
*The USA IRS code permits you to deduct the amount of your financial gift to Daily Hope that exceeds the fair market value of materials you received from Daily Hope.

This devotional © 2018 by Rick Warren. All rights reserved. Used by permission.
You can listen to Rick Warren on OnePlace.com.