We Need to Tell Them - Greg Laurie Devotion - September 14, 2023
Crosswalk.com

Thursday, September 14, 2023
We Need to Tell Them
Remember what it says: "Today when you hear his voice, don't harden your hearts as Israel did when they rebelled." (Hebrews 3:15 NLT)
The story is told of an attorney who was trying to deliver an important document to a man who was determined to avoid him. The man reasoned that it was a subpoena of some kind, and he went out of his way to dodge it.
Fourteen years passed, and the man found himself lying in a hospital, dying of cancer. Through a strange chain of events, the attorney was sick also, and the two men ended up sharing the same hospital room.
The dying man turned to the attorney and said, "Well, you never got me! I escaped you all this time, and now it doesn't matter. You can go ahead and serve your subpoena. I don't even care."
"Subpoena?" the attorney replied. "I was trying to give you a document that proved you had inherited 45 million dollars!"
People can be the same way when it comes to the Christian faith. They go out of their way to escape a relationship with Jesus Christ. They go out of their way to avoid Christians. As a result, their hearts get harder. And they just might go too far.
People reject Jesus because they don't know of all that He offers. They don't know of His great promises. That is why we need to tell them. That is why we need to go out of our way to tell people about the love of God.
So let's keep praying, and let's keep trying to reach these people. You may even know someone who seems as though they have a hardened heart beyond the point of no return.
Take heart. Think of Saul of Tarsus, whose conversion was so radical and unexpected that the first-century Christians thought it was some kind of trap in which he was trying to infiltrate their ranks. They didn't believe that God could save someone who was as wicked, hostile, and against the church as Saul of Tarsus was.
But then Saul of Tarsus became known as Paul the apostle.
You may know someone who seems so hardened and so far gone. Keep praying, because God could reach them.
Or maybe there has never come a moment in your life when you've personally asked Jesus Christ to forgive your sin. You know about God, but you don't really know Him. If you know something to be true and don't respond to it, that can harden your heart.
The Bible tells us, "Remember what it says: 'Today when you hear his voice, don't harden your hearts as Israel did when they rebelled' " (Hebrews 3:15 NLT).
If you don't yet know Jesus Christ in a personal way, then do something about it immediately. Now is the time. If you keep putting it off, there will come a day when you won't hear from God anymore, because you will have hardened your heart irreparably.
Yes, there is a point of no return. Don't let it happen to you. Don't live another day outside of God's will and His purpose and His blessing for you.
Copyright © 2023 by Harvest Ministries. All rights reserved.
For more relevant and biblical teaching from Pastor Greg Laurie, go to www.harvest.org
and
Listen to Greg Laurie's daily broadcast on OnePlace.com.
Watch Greg Laurie's weekly television broadcast on LightSource.com.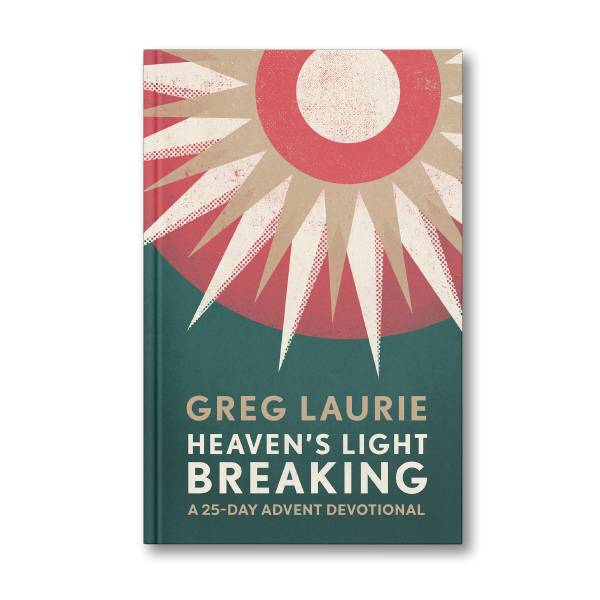 In thanks for your gift, you can receive a copy of Heaven's Light Breaking
Prepare your heart to worship the Savior during the Christmas season with Pastor Greg's new 25-day Advent devotional. Focusing your thoughts on the purpose, promise, and presence of Christ at Christmastime, this insightful devotional can be read individually or as a family. A hardbound copy of Heaven's Light Breaking will be sent to you in thanks for your gift to Harvest Ministries this month.