Let Prayer Be My First Response (Colossians 4:2) - Your Daily Bible Verse - November 14
Crosswalk.com

BIBLE VERSE OF THE DAY: Devote yourselves to prayer, being watchful and thankful. - Colossians 4:2
Let Prayer Be My First Response
By Lynette Kittle
Especially during the holidays, it's easy to be weighed down with all the stresses connected to gift-giving, holiday gatherings, family dynamics, and much more. All this added to life's daily demands can be overwhelming. Yet scripture encourages me to devote myself to prayer.
So how can I be devoted to prayer with so much going on, along with being watchful and thankful in the process?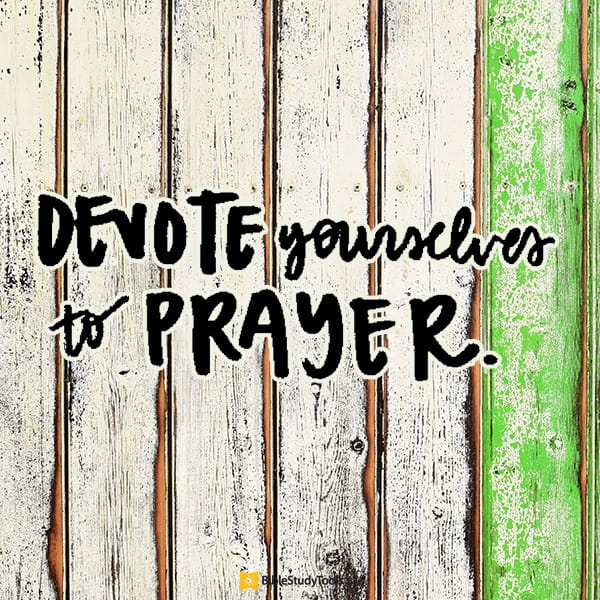 Pray First
In a culture where "making things happen" is often valued over seeking God first, Scripture directs me to "pray in the Spirit on all occasions with all kinds of prayers and requests. With this in mind, be alert and always keep on praying for all the Lord's people" (Ephesians 6:18).
Often in hearing others tell stories of dealing with difficulties, first I'll hear a list of all the approaches and methods attempted in resolving the situation until finally coming to a point where the storyteller says, "All that was left was to pray."
In hearing these words, I often think, "What might happen if prayer is the first response? Like people call 911 in an emergency, what if prayer is the first option?
As most when faced with challenges, worry, fear, and anxiety try to take over my thoughts and direct my responses but Philippians 4:6 encourages me to, "not be anxious about anything, but in every situation, by prayer and petition, with thanksgiving, present my request to God."
Devotion to prayer begins when I make it my priority in responding to everything and anything. Like 1Timothy 2:1 urges me to first of all, make petitions, prayers, intercession and thanksgiving for all people.
Keep Alert
In the busyness of life, it's easy to tune out what's happening around me. Still, Scripture directs me to, "be alert and of sober mind because the enemy the devil prowls around like a roaring lion looking for someone to devour (1 Peter 5:8).
As I become watchful, my eyes open up more to my surroundings, alert to what is taking place around me. Things I didn't notice before or considered praying about seem to stand out, increasing my prayers for others and situations.
Being observant helps to turn my thoughts continually to living out 1 Thessalonians 5:17 to pray without ceasing throughout my day and week.
Give Thanks Often
Scripture advises me to offer a sacrifice of thanksgiving (Psalm 116:17), which can be as simple as thanking God for His faithfulness, comfort, presence, and peace regardless of daily challenges and events.
It's expressing my gratitude for His never leaving or forsaking me (Hebrews 13:5), the act of being grateful He is close to the brokenhearted (Psalm 34:18), and thankfulness for being able to cast all my anxiety on Him (1 Peter 5:7).
---
Lynette Kittle is married with four daughters. She enjoys writing about faith, marriage, parenting, relationships, and life. Her writing has been published by Focus on the Family, Decision, Today's Christian Woman, kirkcameron.com, Ungrind.org, and more. She has a M.A. in Communication from Regent University and serves as an associate producer for Soul Check TV.
Read through the Bible in Community This Year!
We're Tricia and Michelle, two friends inviting you to join us in reading through the Bible chronologically this year. Reading the Bible every day can be a challenge. We're here to sum up each day's passage and provide action steps ... in under 15 minutes. Grab a buddy and join us on The Daily Bible Podcast. Take the plunge, and let's read through the Bible together. We'll be cheering you on all the way!