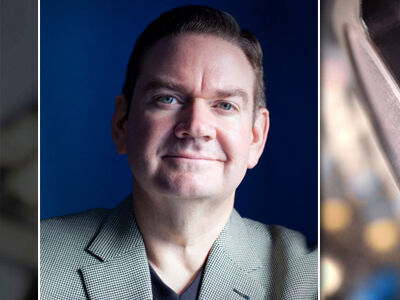 ---
Joe Mullins began to recognize the power of music to bridge traditions and create new communities while listening to his father Paul "Moon" Mullins, a radio broadcaster and accomplished fiddle player from Kentucky. Like so many, the Mullins family found themselves in the Dayton/Cincinnati, Ohio area as a result of the great Appalachian out-migration from coalfields to industrial urban centers. Mullins witnessed how his father's daily country and bluegrass radio show comforted those far from home and it was then he knew he wanted to perform traditional Appalachian music. His father was not only a voice on the radio, but someone the community trusted with a familiar accent. Joe Mullins continues this legacy of connecting people to their heritage through music as a touring musician, entrepreneur, radio broadcaster, and educator today.
As a performer, Mullins quickly established himself as a strong traditional banjo player and lead vocalist. He was only seventeen years old when he and his father founded The Traditional Grass, a bluegrass band out of the southwest Ohio area. By 1989, both Joe and his father had left full time radio work to focus on promoting their band, which went on to record eight albums and perform together for twelve years. In 1997, Mullins became a founding member of Longview, a highly awarded all-star, neotraditional bluegrass group. Longview inspired a trend of reunion tours and collaborations across the genre that continues today.
In 2006 Mullins founded the Radio Ramblers. The band, like his radio programs, initially started with the intent of meeting local needs in Southwestern Ohio, however, the professionalism and consistent quality of the band's performances led to a steady increase in demand for shows. Under the leadership of Mullins, the Radio Ramblers debuted on the Grand Ole Opry on July 27th, 2013, a mere 7 years after their first performance. The band continues to actively perform and tour. Mullins' music is described as authentic bluegrass, marked by consistently clean harmonies, his driving Scruggs-style banjo playing, and entertaining showmanship. His albums and projects have received over a dozen International Bluegrass Music Association awards, notably the 2019 award for Entertainer of the Year (with the Radio Ramblers), the highest award a band can earn within the genre. Throughout his career, Mullins has recorded more than twenty-two albums with plans for future projects.
And yet, Joe Mullins is much more than a performer. Raised in a professional household, Mullins was taught that "if you are going to succeed with a banjo and fiddle, you've got to do it with class and dignity". That sentiment has penetrated every aspect of his business career. The bluegrass music genre is complex, musically and culturally. Many argue that bluegrass was commercial from the beginning, dependent upon radio programs and clever marketing to reach their rural audiences. Mullins embodies that complexity as he navigates both broadcasting and band management. He became an entrepreneur in 1995 when he purchased WBZI Radio in Xenia, Ohio. He later purchased two other stations, all of which operate as Real Roots Radio under Town and Country Broadcasting, Inc. Additionally, he hosts a syndicated radio show, Front Porch Fellowship, which is aired weekly across much of the U.S. and Canada. Seeing a need for an indoor music festival in his community, and building upon early promoting experiences Mullins started the Southern Ohio Indoor Music Festival, an event he organizes each March and November at the Roberts Centre in Wilmington, Ohio. His leadership has been noted by his peers, and in 2016 he was elected to serve as the Chairperson of the IBMA Board of Directors. Further, his professionalism and integrity position him as a trusted mentor to future generations of performers. Few people are both entertainers and accomplished community and business leaders; Mullins does both with dignity. The list of awards attributed to Mullins tells only half the story of his career. The rest is found in sincere relationship building with communities, fans, and industry professionals.
Mullins continues to plan and create. He shares with excitement how inspiring it is to see enthusiasm for traditional music in communities far from Central Appalachia. Believing in the educational and narrative power of bluegrass music, and calling upon experiences performing in diverse settings, Mullins bridges educational and entertainment gaps. For those who don't see live music regularly, or are not familiar with the complex history of Appalachian migration, Joe Mullins offers an entryway into conversations about community, belonging, and the power of music.